Full Color in Complete Darkness
Imagine capturing vivid,colorful details, in total darkness. Hikvision Colorvu delivers this and and more.
ColorVu offers a wide array of benefits:
Clear, full color images - day and night - with brilliant detail and clarity for more rapid identification of suspects.
Improved safety for employees and customers walking in parking lots or other poorly lit areas at all times of day and night. It illuminates darkened walkways within cities, buildings, or on campuses.
Around the clock, it reduces risk and enhances details when reviewing footage after an incident.
Commercial Security Cameras
Numerous benefits come with the ability to monitor and record activity in your business. Professionally installed business security cameras enable you to monitor customers, employees, and suppliers onsite or remotely. They also provide a deterrent to theft, lawsuits, harassment, loss and more.
A networked security system acts as a deterrent to theft, holdups and property crimes.
Professionally-installed business surveillance cameras enable you to monitor customers, employees and suppliers onsite or remotely.
A business security system allows you to retrieve archival video data by day/time or event.
Security Camera Remote Access
Having the ability to access your security cameras remotely, from any device at any time, is a huge advantage. It gives you the security of being able to "see" your workplace when you can't be there in person.
Connect, view, playback and search surveillance system solutions anywhere, anytime
Remotely control your surveillance camera products.
Watch multiple channels simultaneously, in full screen and wide mode.
Upgrade to a High Definition Security Camera System
If you have an analog camera security system, you can upgrade to a high-def system while keeping some of your existing cameras. An AHD (analog high definition) system such HikVision gives you this flexibility while offering full HD with remote features, and approximately 7X greater resolution than your existing standard-definition security cameras.
Integrate with current security camera setups.
Manage multiple sites in the same app.
Get help on-the-go with setup and configuration assistance.
PowerG – The power of wires, without the wires
Cut out the wires and plug in peace of mind with PowerG, the leading wireless security technology for today's homes and businesses.
PowerG offers all the benefits of traditional wired security, without the hassles and vulnerabilities of wires.
Ultra-reliable, two-way 128-bit AES encrypted communication and iron-clad protection that blocks interference deliver unparalleled cyber protection.
Long-range wireless transmission enables easy and quick wire-free and repeater-free installations, and adaptive transmission stretches time between battery changes.
Intrusion Alarm Systems
 In the past, security systems were regarded as luxuries only the rich would need or could afford. But today, there is a security system for any household, business and budget. Security systems are as much of a necessity of modern life as computers, dishwashers and microwaves. With everyone's busy lifestyles, there is often just no one to keep a watchful eye out and local police just can't be everywhere all at once.
Smart Solutions
Security Systems are simply smarter, more user-friendly, and more affordable than ever before. Safe Side Security offers a hybrid of hardwired and wireless system components to suit your needs today and tomorrow. Protecting your property from burglary, our systems can do it all with ease 24 hours a day, 7 days a week.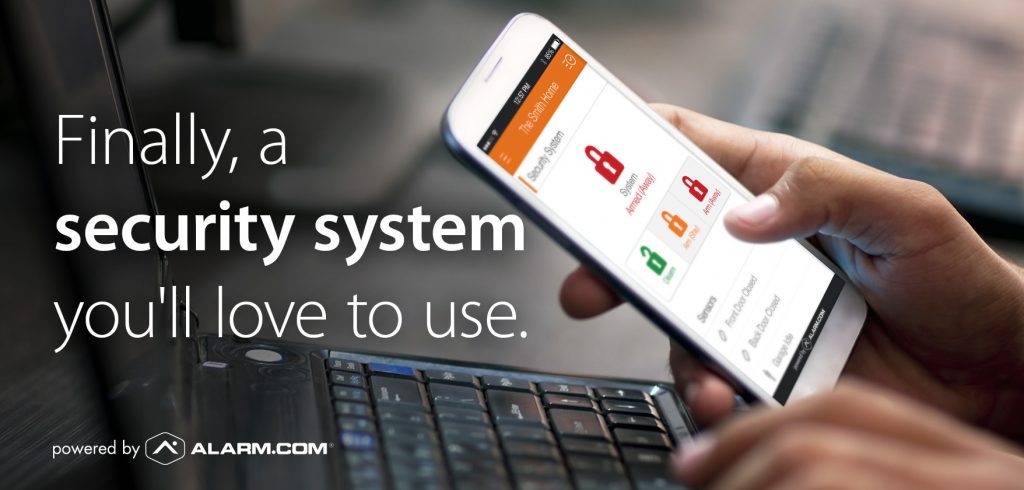 Access Control
Efficiently manage permissions for all the access points to your business. Quickly add and delete employee access, secure equipment, inventory and employees against unauthorized access and keep track of important activity in real time.
Fully Integrated Access Control
From storefronts to entire office buildings, secure your business against unauthorized access with Smarter Access Control. Now you can easily track and manage access to your properties through a user-friendly website and app.
Intuitive User Interface
Whether you have a small team or hundreds of employees, you can easily manage multiple access plans, remotely lock or unlock doors and monitor activity at your business.
Easy Upgrade
Alarm.com Access Control hardware integrates with leading hardware providers making it easy to get Smarter Access Control without replacing existing locks and card readers or installing expensive new on-site hardware.
Fully Supported
Installation and support from Safe Side Security's professional team ensures dependable service and a great experience for you and your business.
Seamlessly Integrated
Efficiently manage a full suite of powerful business solutions including intrusion, video, and energy management, through one easy to use app.
U.L. Monitoring
U.L. certification assures customers, their insurance firms and their local emergency service agencies, that our central station will provide the highest quality and most reliable burglar and fire alarm service that are available to both residential and commercial customers.
UL Listed Central Station
The Company providing the monitoring of your alarm system is an extension of Safe Side Security Inc. and share the same business philosophy of prompt, courteous customer service. Exceeding customer expectations, one client at a time, since 1971. Our emphasis is on Service with Integrity and Commitment. As a UL® listed central station, we adhere to high standards and have a team of dedicated professionals that are ready to help.
Remote Business Security System Managment
Manage your business security system remotely, anytime, from your computer, laptop, tablet or smartphone with the Alarm.com app.
Arm and Disarm Your System
Manage User Codes and Accounts
View Account Activity
Ensure the safety and security of your employees, facility and assets with an industry leading business security system, paired with the functionality and convenience of remote monitoring and management available with the Alarm.com app.
Receive Push Notifications of System Alerts
Video Verification
Appreciate your security, detect before the intrusion and protect outdoor sites with Videofied. Videofied is video alarm security like you've never seen before.
More efficient security: instant video transmission to the central station in case of intrusion.
Greater peace of mind: see live what happens at home at any time of the day.
Indoor or Outdoor
Indoor or outdoor, right where you need security.
Completely Wireless System That Installs Anywhere You Need It
Sends Video Alarms Over a Cellular Network or the IP Network
Use the form below and someone will get back to you as soon as possible to set up your free estimate.